Discover more from The GameDiscoverCo newsletter
Analysis, data and insight about how people find & buy video games in the 2020s.
Over 21,000 subscribers
Deep dive - inside ARK: Survival Evolved's GaaS success
Also: a great Steam Deck survey, and a LOT of other discovery news
[The GameDiscoverCo game discovery newsletter is written by 'how people find your game' expert & company founder Simon Carless, and is a regular look at how people discover and buy video games in the 2020s.]
Welcome back, excitable game discovery fans, to yet another week of trials and tribulations in the PC & console video game industry. It's never a dull moment around here, it is?
BTW, was on a call this morning trying to explain what GameDiscoverCo does, and I kept saying 'situational awareness'. And that's something we will be repeating more. There's a lot going on, and you need context. And whoop, we've got context!
[PSA: help us out & grab a GameDiscoverCo Plus paid subscription, which includes an exclusive extra weekly PC/console 'game trends' newsletter, access to our Steam 'Hype' & game performance chart back-end, multiple eBooks, a member-only Discord & more.]
Inside ARK: Survival Evolved's GaaS success?
Last week, you may have seen some news headlines around the Game Pass/PlayStation Plus fees for Studio Wildcard's open-world 'dinosaurs & guns' survival title ARK: Survival Evolved. This was based on parent company Snail Games USA's S-1 filing.
For those who don't know, a S-1 filing is a registration document required to go public on U.S. stock exchanges, and is basically a prospectus. So Snail Games is required to put out a lot of info in public - much of it very interesting & tricky to find.
Some extra context: ARK: Survival Evolved has largely monetized via initial purchase and the $30 Ark: Genesis Season Pass - which shipped in two parts - on PC and console. (It has a lot more DLC, but it's largely free 'level packs' like Fjordur.)
You can see the Season Pass effects on quarterly units sold across the Snail Games catalog (which is largely ARK-related, but also includes titles like Last Oasis) here:
Anyhow, we've trawled Snail Games' S-1 more deeply. And here's some of the most notable info we could find, deeper in the document, that we think you'll dig:
ARK's PlayStation Plus deal was worth $3.5 million: This was a straightforward 'PS+ Essentials' deal signed in November 2021, and ARK became available for 'free' in March 2022 for all PS+ subscribers for 5 weeks. (We'd guess that $ number is on the higher end compared to some indies - but great to have one out there!)

ARK's Xbox Game Pass deal extension paid out $2.5 million: there was an initial agreement from November 2018 to December 2021, and "the agreement was subsequently amended in June 2020 to extend the ARK 1 Game Pass perpetually effective January 1, 2022 and to put ARK 2 on Game Pass for three years upon release." Looks like MS paid $2.5 million for the perpetual ARK 1 license, with $2.3 million for ARK 2 deferred for later.

The game is happy to give away units to sell DLC: According to Snail, ARK has "76.5 million console and PC installs, which include 38.4 million installs from free promotions, through June 30, 2022." According to the above graph from the S-1, around 17.7 million of those downloads were from an Epic Games Store 'free week' in 2020. (And there was a 'get it for free on Steam' deal in June 2022 too.)

ARK is a pretty darn playable & replayable product: according to Steam data showcased in the S-1, it's "been played for more than 2.8 billion hours, with an average playing time per user of more than 158 hours and with the top 20% of all players spending over 100 hours in the game." Not bad!

We got some rare Steam DAU data, too: "In the six months ended June 30, 2022, ARK: Survival Evolved averaged a total of 395,150 daily active users ("DAUs") on the Steam and Epic platforms, and we experienced a peak of approximately 755,000 DAUs in June 2020." If we look at Steam CCU data and presume that Steam is 80-90% of the DAUs, perhaps ARK's DAU is 7-8x its CCU? (We've seen ranges from 7x to 15x in limited exploration so far - the lower the multiplier, the 'stickier' the game.)
Finally, it's relatively rare to see revenue split per platform. So here it is - via top payments from each platform - for all Snail Games titles (of which ARK is 80-90%, depending on the year) for 2019 through mid-2022:
After combining Sony North America and Europe (which still pay out separately, for weird historical reasons!), you can see that there's a good spread of revenue between platforms, actually.
Concluding - we now know that a Vin Diesel-starring ARK 2 is in development, and we presume the same 'sell and give away a lot of base game units & monetize on DLC' will be extended further for the sequel. (The first ARK had one massive multi-year Season Pass. But the trend nowadays is to often to do more of them, more often?)
Steam Deck: a very handy survey of early adopters
The catchily named Overkill.wtf recently did 'a state of Steam Deck survey', quizzing over 1,200 early adopters of Valve's portable Steam hardware, which may have shipped >1 million units already.
Of course, these are likely to be more hardcore fans - largely recruited via Reddit. But there's still some super interesting conclusions in the survey. Here's the stuff we dug up:
People do buy games 'just' to play on Deck: "63% indicated they had bought at least one game to play specifically on the Steam Deck. 18% said they purchased 10-50 games to play on the portable PC. Around 15% of respondents said they had not yet purchased any game for the Steam Deck primarily."

Owning a Switch isn't stopping early Deck adopters: 63% of the folks surveyed also owned Nintendo Switch, and the largest share, 90% (!) also owned a PC. Further down the chart, smaller percentages (less than 50%) owned a PS4 or a PS5, and only around 15% each owned an Xbox Series or Xbox One console.

It's not just Steam that's used on Steam Deck: the top third-party add-ons were Heroic Launcher and adding storefronts (Uplay, Origin, Epic) to Steam. Also: "Nearly 30% of Steam Deck users indicated they use in-home streaming services like Moonlight and Steam Remote. Around 20% shared that they have used off-site streaming, like Stadia and Xbox's Game Pass cloud services on the Deck. And only around 15% of Steam Deck owners use their devices for emulation."

The top 15 most-played games on Deck make a lot of sense: That'd be: "Vampire Survivors, Marvel's Spider-Man, Elden Ring, No Man's Sky, Hades, Cult of the Lamb, Horizon: Zero Dawn, Monster Hunter Rise, The Binding of Isaac, Final Fantasy VII Remake Intergrade, One of the different Pokémon versions [presumably on Switch emulation, oh dear], Stardew Valley, The Elder Scrolls: Skyrim, Dead Cells, and Portal 2."

Deck is pretty good so far, but there's always incremental improvements: from a suggested set of choices, top picks were: a bigger battery and an OLED screen, (then a big drop in interest to) a second USB-C plug, even more repairability, a higher resolution screen, and a smaller form factor. Makes sense?
But overall, people seem hyped, with Overkill noting that "over 90% of respondents gave Valve's new handheld a score of 7 and above." Of course, with no retail distribution and production still ramping up, it's not shipping numbers anything like 'regular' consoles or handhelds. But it's still an intriguing proposition, overall.
T
he game discovery news round-up..
Before we start our round-up, a correction & augmentation. We've updated last week's 'top games of Steam Next Fest' newsletter, because we missed 3 or 4 games that pulled their demo promptly at the end of Next Fest. (Our bad.)
Most of the Top 10 is still the same, but (much-hyped medieval city sim) Manor Lords and (already-launched F2P Diablo-a-like) Undecember are now correctly listed atop the CCU charts. Hurray! Anyhow, onwards to the news, of which there is much:
Finally, sure, we're all excited (?) about the VR boom of the 2020s, but how about… the VR boom of the 1800s? Clive Thompson has the deets: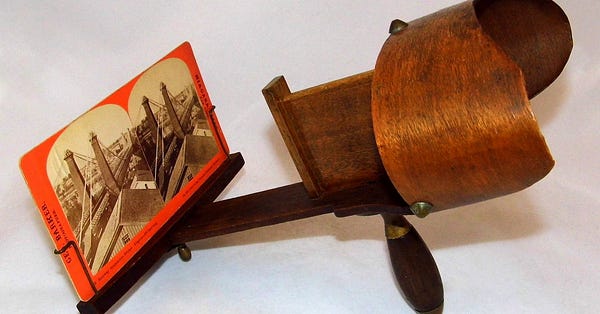 clivethompson.medium.com
Lessons From the VR Craze of The 1800s
Victorians went wild for stereoscopes—the virtual reality of the industrial revolution
[We're GameDiscoverCo, an agency based around one simple issue: how do players find, buy and enjoy your premium PC or console game? We run the newsletter you're reading, and provide consulting services for publishers, funds, and other smart game industry folks.]