Discover more from The GameDiscoverCo newsletter
Analysis, data and insight about how people find & buy video games in the 2020s.
Over 21,000 subscribers
Spellbreak's hype get, PlayStation Plus Collection, & more
It's a busy week over here!
[Hi, I'm 'how people find your game' expert Simon Carless, and you're reading the Game Discoverability Now! newsletter, a regular look at how people discover and buy video games in the 2020s.]
Welcome to the latest game discovery newsletter - glad to have you aboard, as we navigate the stormy seas of 'look, we'd like to sell a few copies of our game, please - at least enough to make our next one?'
And this round-up starts out with a look at a F2P PC/console game that seems to be doing things right:
Creating hype, the Spellbreak way?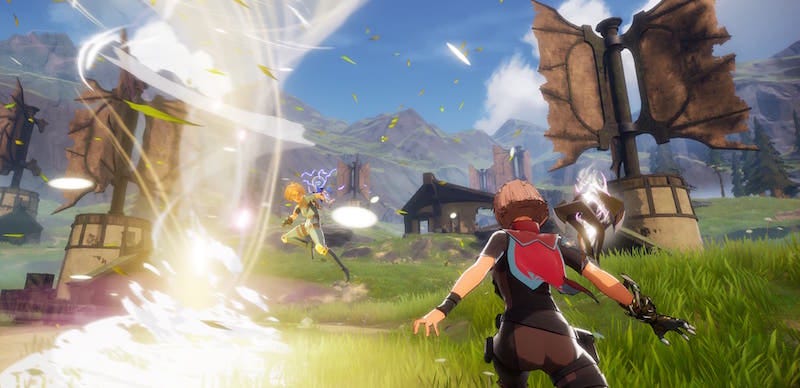 Over on the website of high-end VC firm Andreesen Horowitz, there's a great article and video from Seth Sivak, the CEO of game dev Proletariat, who have just released F2P 'magic x battle royale' title Spellbreak to lots of platforms (PC, Switch, Xbox, PlayStation) after a super-lengthy beta phase.
There's some phrases in here that feel a little 'hype'-y, such as "gaming influencer ecosystem" and "content sharing flywheel". But please push those aside and read the article - it has a load of amazing advice for people looking to get early hype for their game.
As of right now, Spellbreak is still a top 30 game on Twitch, about 2 weeks after lunch, with 4 million hours watched so far (!) But bear in mind this is not a small-budget effort: "We've raised about 30 million in total venture capital over a couple of rounds of funding. We have about 85 people on the team currently, but we're growing to around 150 to support Spellbreak for the rest of this year."
But there's lessons for all! Here's three points from the article I thought were particularly good:
Find platforms that you can get hype from without a gigantic in-built fan community: "A big reason why I think we were able to grow is channels like Imgur, like 9gag, like Reddit, where you can actually still go viral without needing a base to build from. There's a lot of these out here, and they change all the time, but focus on areas where you can still get on a top viral page."

Does your game stand out just as a visual glimpse? "…animated gifs and short-form video is incredibly important. If you haven't already had a conversation on how your game is going to show in an animated GIF, you need to have it. It doesn't have to be super-fast action skill shots, the way we had in Spellbreak, it could be, you know, poignant moments or touching moments or cute things or funny things."

Have a central community nexus such as Discord: "In the email [to people who signed up to play Spellbreak betas] we would say, "Hey, it's going to be about a week or two, depending on demand, for you to get a key. But if you join our Discord, you'll probably get one tomorrow."… We knew that Discord was going to be really useful for us because we could engage directly with them."
Sure, Proletariat has had a couple of 'pivots' in their history, most notably after Streamline, a paid multiplayer team tag game, ended up flopping on Steam in 2016. Yet their 4 years of dev and publicity on Spellbreak have led them to impressively refine pre-launch community outreach. Good stuff.
Apple One - more Arcade than expected
Some interesting updates from Apple which significantly affect Apple Arcade's relevance, given the announcement of the Apple One subscription bundles.
It turns out that Apple Arcade is actually in all tiers of the upcoming SaaS bundles, not only the higher ones (as previously rumored!) Here's the line-up (with U.S. pricing, sorry, I had to pick a territory):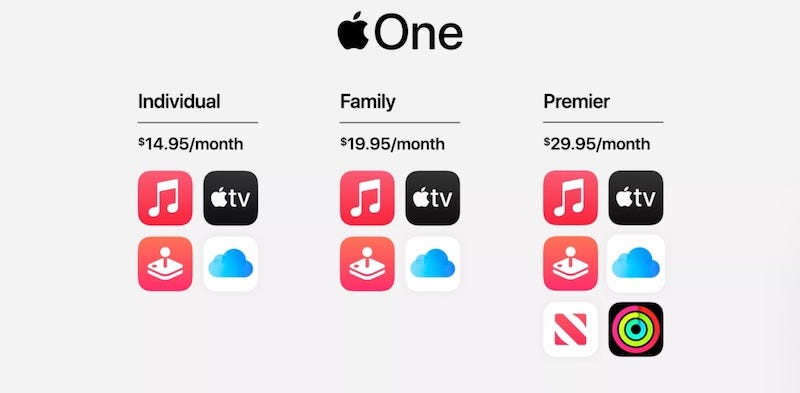 Just in case you're not good at deciphering icons, The Verge comes to the rescue: "The Individual plan gives subscribers Apple Music, Apple TV Plus, Apple Arcade, and iCloud storage (50GB) for $14.95 a month. The Family plan includes the same apps but with 200GB of iCloud storage for $19.95 a month. The Premier plan gives subscribers Apple Music, Apple TV Plus, Apple Arcade, 2TB of iCloud storage, Apple News Plus, and the newly announced Apple Fitness Plus for $29.95 a month."
This is interesting because Apple is starting to move towards the Amazon method of 'lots of different media things that you might only somewhat care about solo, but you'll pay for in a bundle'. (Of course, Amazon Prime has an anchor, which is 'free shipping for your items'. Whereas Apple's anchor is - Apple Music, I guess?)
Anyhow, I do think this shifts the value proposition for Apple Arcade, as it does for Apple TV+ (which doesn't really have that much content on it right now!) And it takes the pressure off for Arcade, since the service's ROI will be measured in a more indirect way, thanks to bundling.
In bonus Apple-related news, the company did change their App Store review guidelines to technically allow cloud-streaming services. But it's based on very unlikely scenarios for xCloud/Stadia - you have to submit each game separately, they each need their own Store page, etc. So… we'll see if any governments want to get involved in this particular issue from a monopoly/antitrust perspective.
Aha… PlayStation Plus Collection?
So this newsletter happens to be going out directly after the big PlayStation 5 announcement. I may save any bigger analysis for another time. That $400/$500 pricing seems OK for early adopters. And it's interesting that Sony is still paying for one or two third-party console exclusives (Final Fantasy XVI!), rather than the typical 'timed exclusive'.
But the most interesting news in our space seems to be PlayStation Plus Collection, which is specifically for PlayStation 5 (I think?), and includes a whole bunch of big budget PS4 titles from PS4 for PlayStation Plus subscribers - both first and third party:
Whether this is a true 'Game Pass competitor' remains to be seen. But it looks like Sony is keen that people who upgrade to the disc-less PS5 don't miss out on their favorite games they had for physical PS4, and to fill out the library - since PlayStation 5 games may start out a bit thin on the ground.
Of course, Sony is probably also keen to get a bit deeper into the 'game library as part of a subscription' space (beyond PlayStation Now, which is paddling on a parallel, cloud-y track), in case things start majorly trending that way? We'll see!
Other neat stuff…
Firstly, here's a bunch of other stories and data points that deserve your attention:
Finally, here's that man Ryan Clark (Crypt Of The Necrodancer, Industries Of Titan head honcho) again. He spent some time with his Brace Yourself Games colleagues on this video on a favorite subject of ours - you need 'hooks' in your game:
Discussing with Ryan why people don't go deeper on differentiation, I came to a simple conclusion. Some people make their games independently of concepts like this, which they consider 'overly calculating'.
Perhaps more interestingly, everyone has their own idea of hooks. And some people are better at working them out than others. Some think 'having a super cool main character' is a hook, for example. To which I answer - this is only true if your protagonist is Zool, the ninja of the Nth dimension.
Until next time, take care,
Simon.